Director: Denis Villeneuve
Running Time: 130 minutes
Review by Tom Clift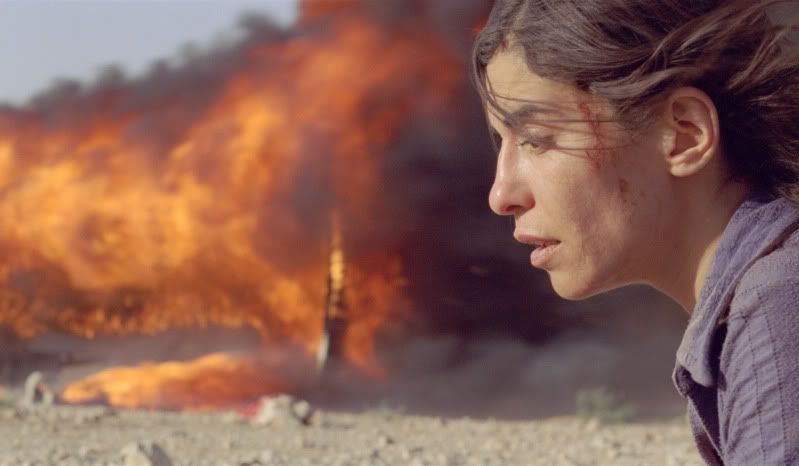 Purposefully paced and magnificently captured, Denis Villeneuve's Incendies is an intense and distressing drama about religious conflict and family secrets, told over two generations in French, Arabic and English. Canada's nomination for this year's Academy Award for Best Foreign Language Picture, the film is based on a play by Wajdi Mouawad, and in addition to scoring the prestigious Oscar nomination (it eventually lost out to Denmark's In A Better World), the film took home eight trophies including Best Picture and Best Director at the 31st Annual Genie Awards, a ceremony that recognizes the best in Canadian cinema. The movie masterfully intercuts between two timelines, telling two interwoven stories separated by time. These dueling narratives, which mirror each other superbly, are each carried by excellent performances and eventually build to a shocking climax, one that is almost impossible to predict. Yet while it is definitely a mystery story, Incendies is not by any traditional standards a thriller, and the third act twists are designed to resonate on an emotional level, lingering long after the shock and horror of the revelation fades.
Set to the haunting reverberations of Radiohead's "You and Whose Army?", the film's opening sequence is a mesmerizing piece of filmmaking. Villeneuve slowly draws us into a scene of young boys having their heads shaved, all a part of their indoctrination into the ranks of religious warrior-dom. It is no coincidence that the director chose the music of Radiohead (which appears several times throughout Incendies) to open his film; their signature sound is one of simultaneous beauty and menace, and their frequent musings on modern alienation ring true for the films lead character, a woman detached from the civilized world around her, haunted by a violent history she cannot leave behind. To most people who knew her, Nawal Marwan was a single mother who worked as a legal secretary in urban Quebec. Her past was largely a mystery, even to her closest coworkers and her adult children, twins Jeanne (Mélissa Désormeaux-Poulin) and Simon (Maxim Gaudette).
But following their mothers death, the reading of her will throws the twins' lives of into disarray. Not only does Nawal reveal that their absentee father is still alive, but it turns out that they also have a long lost older brother whom they did not know existed. This revelation sends Jeanne and eventually a more reluctant Simon on a quest from Canada to the Middle East in an attempt to track down their mysterious relatives and deliver Nawal's cryptic final messages. Simultaneously, we witness the events of Nawal's own life in flashbacks; growing up in an unnamed Middle Eastern country where tension between Christians and Muslims frequently spills over into violence, she is forced to give up her illegitimate child at the movies' outset, and is transformed by a series of horrific events from an idealistic student to a militant Islamic martyr. The performances in both timelines are excellent – Jeanne's hope for resolution clashes with Simon's more cynical outlook on his mother's life, while Belgian actress Lubna Azabel is superb as the troubled woman at the centre of the conflict.
A three time winner of the Genie for Best Director, Villeneuve's mastery over his film is extremely impressive. The barren cinematography captures the harshness of the desert setting, while occasional uses of slow motion and excellent sound design give the movie a feel of intense and inescapable danger. The narrative does occasionally lull in the beginning, but as the film unfolds the parallel journeys of Nawal and her children offer some fascinating insight into reasons for and consequences of religious prejudice and violence. The ambiguous setting allows the director to comment on contemporary unrest in the region without risking historical inaccuracies or backlash, and through several heart-stopping suspense sequences and sparse moments of sudden, ghastly violence (a unforgettable scene on a bus is one of the most powerful and horrifying moments you will see on screen all year), Villeneuve paints a picture of a conflict that feels shockingly and disturbingly real.
The films' third act brings Jeanne and Simon two shocking discoveries about their family history. The first might well have been sold as a twist, but instead Villeneuve chooses to reveal the information to his audience long before his characters, something that may cause some initial feelings of dissatisfaction. Little do we know that the director is simply building up to his true denouement, a revelation that is both shocking and morbidly appropriate. Incendies is a film about a circle of violence and hatred, and the ending certainly reflects this. Yet the movie also offers a kind of twisted catharsis. By escaping her past and raising her children as free citizens, Nawal breaks the circle of violence that plagues her. And by revealing her terrible secrets, she can at last bring herself some peace.
What are others saying about Incendies?